503-241-4340 x102
Greg Baker
Executive Director
Greg is a native of Kansas City, Missouri, and a Vietnam veteran who served in the Air Force strategic air command. He received a B.A. in Psychology from Rockhurst University and a Master's of Public Administration from the University of Kansas.
Greg served as City Manager for the City of Damascus, was the President of the Negro Leagues Baseball Museum, and assistant city manager for the City of Kansas City. He has also served as president and CEO of LeadTeam LLC, a start-up leadership and marketing consulting firm and was vice president of Community Leadership with Missouri Gas Energy.
As the founding executive director of Kansas City's Minority Supplier Council, he worked to connect more than 125 corporations and 185 minority run firms. Baker was the manager of community and international development with the Kansas City Chamber of Commerce and worked as a Labor Relations/Equal Opportunity Officer in the Dept. of Human Services in Washington, D.C.
His past board memberships include the National Minority Supplier Development Council, Kansas City Consensus, Metropolitan Energy Center, Truman Medical Center, Alvin Ailey, Citizens Association, Project Equality, Metropolitan Community Colleges, Leukemia Society and Junior Achievement, Children Center of Clackamas County, Damascus Kiwanis Club.
Known for his commitment to making a positive difference within the Kansas City community, Baker has received numerous awards including the Center of Creative Leadership Award (1992), National Eagles Award for Outstanding Leadership (1994) and the Junior Achievement Up & Comers Award and The Kansas City Globe's 100 Most Influential Blacks in Kansas City (1994). In addition, as the lead singer of Bake and the Tenderhearts, he won an Emmy Award for Vocals in the KCPT documentary, Remember Me K. In 2013 Greg was recognized by the Interfaith Peace Initiative Golden Rule International Award for service in promoting peace throughout his work and service.
Baker and his wife, Janet, have been married for 28 years and have five children and five grandchildren.
503-241-4340 x103
Kelly Lyons
Development Director
A Philadelphia, PA native, Kelly made her way out west to attend graduate school at the University of Portland fall of 2014.  She is currently working towards her Masters of Fine Arts in Directing and has a great passion for the nonprofit sector.  After graduating from James Madison University in Harrisonburg, VA, Kelly worked extensively in development, fundraising, and grant writing in both Washington, DC and New York City.  Prior to moving to Portland, Kelly was an associate producer for the New Musical Foundation and Moonlit Wings Productions.
She has loved putting her Nonprofit Business minor to work while utilizing her creative background to problem solve, design, and think out of the box here at Blanchet!  Here at the Blanchet House Kelly is an active member of the development committee and enjoys her work in the administrative office.
In her free time Kelly loves hiking the Gorge, camping, dancing, baking, theatre and spending time with her husband Matthew, puppy Camden, friends and family!
c 503-226-3911 or x104
Dennis Arnold
Purchasing, Building and Food Services Manager
Dennis is a native Portlander. He grew up hunting and fishing here in Oregon with his dad. Prior to Blanchet House, Dennis worked in both commercial and residential construction for most of his adult life. He first came to the Blanchet House in March 2012 while still residing in the old building on the corner of NW 4th and Glisan. After being with the Blanchet House for several months he was made floor supervisor and then ultimately was hired as the full-time Food Services and Building Manager in April 2013.
In his free time, Dennis likes to travel and experience new cultures; having recently explored Prague, Czech Republic, Austria, USVI, Mexico, Canada and all over the U.S. Currently, Dennis is taking courses to achieve his Purchasing Managers Certification and the Blanchet House has graciously agreed to financially support his education. When he decides to leave the Blanchet House, Dennis will be pursuing a career in purchasing specifically the private sector.
c 971-271-4973 or x106
David Greenberg
Residential Program Manager
David was born in St. Louis, Missouri and spent most of his life in Denver, Colorado working as automotive painter. He attended Trinidad State Junior College working towards an Associates Degree. David has always been active in sports and even played semi-professionally for the Titans. David has worked as a CNA at Trinidad State Nursing Home. David has a son who lives in Colorado and daughter who lives in Oregon. David recently connected with his son via Facebook after being estranged and searching for him for almost 20 years. David has been in recovery since 2006 for alcohol. In 2010 David completed a year discipleship program through 180 Ministries in Denver, CO and in 2012 graduated from the Salvation Army Recovery Program. David is grateful for every opportunity, from the very first time he crossed the threshold of the Blanchet, to working as the doorman in the dining room to working as dinner floor supervisor. As Residential Program Manager, David feels overwhelmed with the love he has received at Blanchet House. David is currently attending Portland Community College.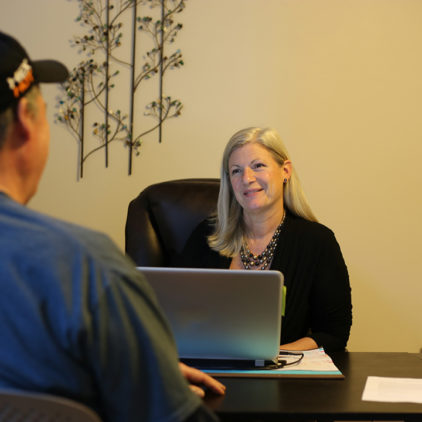 c 971-337-8747 or x107
Kristi Katzke
Case Manager
Kristi is a native Oregonian and has been living in the Portland area most of her life. She raised four great children and is now the proud grandmother of three adorable boys.  Spending time outdoors is how she recharges; she loves to bike, camp and spend time at the beach with friends and family.  As her children started their own lives, Kristi began volunteering at a soup kitchen in East County. Through her volunteer work, she grew to learn about the guests she served, taking time to get to know them, and seeing them in a different way than before. Kristi truly believes this is her calling. Seeing the effect addiction and mental health issues had on the people she served had a profound effect on her.  She soon returned to school and became a Chemical Dependency Counselor. Since then, Kristi has worked with people from all walks of life, but her heart has always pulled her toward serving the homeless population. She is excited to be joining the Blanchet team and feels blessed to have this opportunity to be part of the work we are doing here at Blanchet.
503-241-4340 x105
Julie Showers
Marketing/Communications Manager
Julie is focused on sharing the Blanchet House mission with Portland. Prior to Blanchet House she worked as the Creative Director of Willamette Week. Raised outside of Lansing, Michigan, she attended Michigan State University where she earned a BA in Anthropology. After graduating from college, she moved to New York City where she worked in publishing and advertising for ten years. She contributes strategy, writing, photography and design to Blanchet House communications and marketing. She lives in NE Portland with her partner, daughter and dirty dog Roy.
503-241-4340 x101
Jeseca Dawson
Administrative Assistant
Jeseca Dawson joined the Blanchet team as Administrative Assistant in February 2017. Most recently, she served as the Development Coordinator of Institutional Giving at Inner-City Arts in Los Angeles and Coordinator at the Ben Maltz Gallery, Otis College of Art and Design. Prior to that, she worked at the Museum of Contemporary Art Detroit (MOCAD), first as the Administrator and then as the Deputy Director of Operations and Administration. Her social justice advocacy began with the Multicultural Experience in Leadership Development (MELD) and The People's Institute for Survival and Beyond. Jeseca received an MFA degree in Public Practice from Otis College of Art and Design and her Bachelor of Interdisciplinary Studies degree from Wayne State University's College of Urban, Labor and Metropolitan Affairs, with a focus in Photography and Social Science.  Her artistic and curatorial work explores issues around systemic violence in American culture, focusing specifically on class, patriarchy and xenophobia.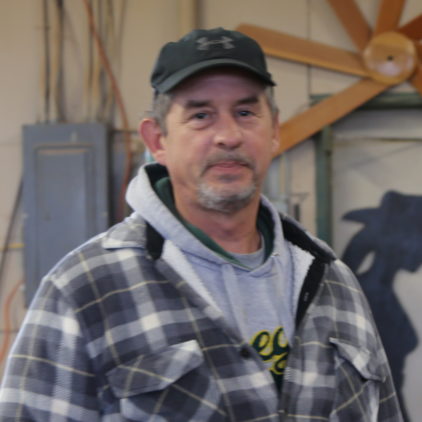 503-852-6626 or x121
Ross Sears
Farm Manager
Ross Sears was born in Springfield, Oregon and moved to Portland in 1984.  Prior to becoming the Blanchet Farm Manager in 2010, Ross worked in the construction and concrete business for years.
As Farm Manager, Ross takes on a wide range of responsibilities. He manages all resident intakes, discharges and oversight. He is responsible for the care of the livestock, barn, buildings, kitchen, woodshop and farm property. Ross is passionate about supporting the men at the farm and subsequently works with different hospitals, courts, probation officers, social service agencies and families to ensure each guest is taken care of a helped in their journey toward recovery.
Ross has recently started his own 501(c)3 halfway house for men that graduate the Blanchet Farm program.  Simplicity House is located in Yamhill county and offers an added step for those needing sustained help in their recovery.  The Blanchet House is supporting Ross in achieving his Peer Mentoring Certificate.
In his free time, Ross enjoys hunting, fishing and spending time with his family and friends.
971-337-8745
Vicky Spear
Case Manager
Vicky is passionate about supporting people to overcome obstacles on their journey to reach victory and fulfillment.
Vicky began her studies at Portland Community College by entering into the alcohol and drug program. While working toward her Associate Degree in Applied Science she worked two internships at Cornerstone in Salem and Springbrook NW in Newberg. These were intensive inpatient alcohol and drug programs. The first focused on individuals who were incarcerated and the second focused on professional clientele. She began working at Springbrook NW in September of 1994 and remained there in a part-time capacity as she continued her education. She received a Bachelors Degree from Marylhurst University in Human Studies in 1996 and a Master's Degree from Lewis and Clark in Counselling Psychology in 2000.  Her internship for the Master's Degree consisted of a one year time period that was spent in Washington County's Parole and Probation and Victim Service Center.  During this time she learned about domestic violence and sexual assault and worked with individuals on probation. She also mentors women who are 6 months from their release and throughout their transition time back into their community.
503-347-4406
Tim Barrett
Woodshop Manager
Tim came to Blanchet in 2012 just like any other resident. Now, sober over three years, his management of the Woodshop has changed the future of the Blanchet Farm and mens' lives forever. Tim is a highly skilled metal fabricator and artist with over 30 years of experience. His technical competence and ability to design is exceptional, however, it is not only his skill set that has made his input into the woodshop revolutionary.  It is his patience, compassion and teaching skills that he exhibits every day when working with the men at the farm. Tim has transformed the Blanchet Woodshop from an extra-curricular activity to an invaluable program geared toward rehabilitation.  Not only is Tim teaching a valuable and employable trade, but he also works with the men to foster creativity, tolerance, and out of the box problem solving.